by RJ Pagoto
Melbourne has been claiming to be the food capital of Australia, but a great dining experience is never complete without wines. So if you want food, wine and cultural experience, South Australia is the best place to visit!
A vineyard in Barossa Valley, autumn 2008
From any city around the world, Adelaide City, S.A. can be easily accessed through its convenient international and domestic airports. From there, your food and wine journey begins.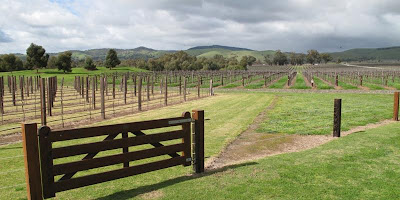 Jacob's Creek demonstration vineyard, late winter 2010


The vineyards in Krondorf Rd., Tanunda, S.A.
The Adelaide Central Market must be your first stop; then discover the fresh produce of South Australia from meat, milk, fish and plant products. Witness the product and cooking demonstrations, and take advantage of the 'free tasting' stalls featuring the savoury products of every shop. Don't forget to take your camera with you, so you could bring home, at least, the memories of the other colourful, fresh and flavourful harvest that you may possibly miss to taste.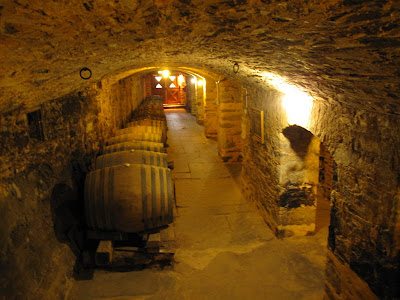 Sevenhill's underground cellar, established by the Jesuit priests in 1848.
The wine products of Sevenhill Cellars in St. Aloysius Church, the source of sacramental wine of their neighbouring towns, and possibly across South Australia.
From Adelaide city take a tour to the Barossa and Clare Valleys (1hr 15min to 2hrs)—Australia's most famous, multi-awarded regions for their vintage and great-tasting wines! Barossa covers 7 towns, and Clare has 2 towns and 5 villages that have been growing vines and processing wines for almost two centuries. It started from the settling of the German and British immigrants in the mid-1900, where heritage, cultures and traditions are still evident up to these days. The regions have been very famous not only for its wine and historic trails but for its cafes and conservation parks, as well.
The wine barrels and visitor centre and restaurant in Saltram Estate, Angaston, S.A.
I consider myself very lucky. My place is only 45 minutes and an hour drive to Clare and Barossa Valleys, respectively—the reason why I didn't miss the Barossa Gourmet Weekend last August 21-22, 2010.
Sparkling Battered Mulloway with chips and aioli (Au$ 15); Jacob's Creek Restaurant, Tanunda, S.A.
Margueritta (vegetarian) Pizza (Au$15); Jacobs Creek Restaurant, Tanunda, S.A.
SOUTH AUSTRALIA: The Home of Jacob's Creek
So what are you waiting for, book your ticket now, and visit South Australia—the Festival State. I can give a free lift and accommodation to KaBlog members who will be visiting Barossa and Clare Valleys. Contact me at pagotoruelp@yahoo.com.
► RJ blogs at Chook-minder's Quill. He also write for KBJ on a regular basis via his Pacific Breeze column. You can read his previous column articles here.